About me: Yes, it's true. I like old vinyl records, typewriters that go "tap, tap, click," and black & white film... oh, and I've never sent a text (can't say that anymore... in 2015, I sent my first text)!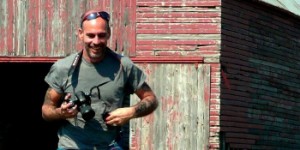 Chuck Jines is an internationally published independent documentary photographer and photojournalist.
Chuck's passions center around the controversial questions concerning the nature of reality, the human mind, society, and current events.
He covers news events, social events, and loves to share his social documentary photography of people, places, and things.
Chuck is also a writer and the publisher of the quarterly magazine, Gravis.
Chuck's work has been published by prominent news publications such as the BBC, The Daily Mail, The Guardian (2), New York Mag, and the fine-art magazine, Corridor Elephant. Chuck's video work has been used by ABC News/Rock'n Robin Productions special on Hurricane Katrina. Chuck has also provided fixing services for CNN's "This Is Life" with Lisa Ling, and has been invited to display his work at the Chicago History Museum. As well, Chuck has given presentations of his work at Chicago State University, and at DePaul University College of Communication. Chuck's work on heroin has also been exhibited at the Gallery 7 in Joliet Il..

Other Notable Mentions:
WBEZ91.5 Radio Chicago - Photographer documents life on Chicago's streets
PetaPixel.com - How to Shoot Portraits of Strangers on the Street Like a Ninja
DigitalRev - Watch How Close This Street Photographer Gets to His Subject Without Noticing
Chicago Tribune - Will County photo exhibit to showcase heroin epidemic
Voted one of THE 20 MOST INFLUENTIAL STREET PHOTOGRAPHERS ACCORDING TO STREETHUNTERS.NET
WJOL Radio - Hero Helps: Chuck Jines photos of heroin addicts & from Stepping Stones, Paul Lauridson
HERO/HELPS summit to feature exhibit preview by photographer who spent years documenting heroin epidemic and its human toll
BBC: Chicago heroin addict's descent into hell
Chuck Jines worked with the BBC's Ian Pannell on his investigation into the heroin epidemic in Chicago:
Secret BBC filming reveals how easy it is to buy heroin
Chicago's heroin addict parents unable to see their children
Mail Online: Chicago's heroin epidemic laid bare: Photographer spends a year with homeless capturing harrowing images of potent Mexican drug sweeping the city
Velvet.hu: Egy évig élt drogfüggő hajléktalanok között, és végig fotózott
Chicago's heroin epidemic laid bare: Photographer spends a year with homeless capturing harrowing images of potent Mexican drug sweeping the city
The Chicago Architecture Blog: A Very Noir Visit To Lincoln Park And The Biograph Theatre
lomography.com Then and Now: The Delicate and Elemental Art of Street Photography
WBBM radio interview 4/28/2013 Street Photography Group Holds 'Alley Walk' Downtown
Examiner.com: C. Robert Jines, a noteworthy street photographer
My philosophy podcast (I no longer podcast) was voted #1 out of the top 50 philosophy podcasts in 2011 by guidetoonlineschools.com.
Documentary and reportage photographer, Chuck Jines, is available for:
Political events
Mixed Martial Arts

Natural and man-made disasters
Music events and promotional photography
Special event photography
Reportage

Public Speaking
Private photography classes and workshops

Online mentor/adviser/consulting service
Specializing in Black and White 35mm Film Photography. Contact Chuck Jines Below for Details.
I am available for Mixed Martial Arts and Boxing photo assignments. For scheduling and pricing contact me using the form below.
Fighters who want CDs or 11" x 14" prints of their fights contact Chuck Jines using the form below- MMA Photographer
Promoters, managers and other commercial operators who want CDs or to use individual images should also contact Chuck Jines using the form below- MMA Photographer
All photographs Copyright 2015 Chuck Jines No image is to be copied, duplicated, modified or redistributed in whole or part without prior written permission from Chuck Jines.
Hello, my name is Chuck Jines. I'm just one of several billion animated carbon creatures passing through existence.
While I'm at it, I like to spend my time as a writer, humanitarian, and philosopher who is generally moving in the opposite direction of the crowd. I love doing research, writing, and blogging.
To me, street photography is more than just taking pretty pictures. At its highest level, street photography is about provoking intellectual and social action. I try to weave art, politics, philosophy, and social action into my work.
GritStreet Photography is a high-contrast, high-grain, B&W style of street photography that seeks to invoke an emotional, intellectual, social, or political response from the viewer.
GritStreet is a mixture of documentary photography, photojournalism, and street photography. Unlike most street photography that we see today - which tends to have no particular objective or message - GritStreet has deliberate psychological, social, and political intentions.
In general:
I'm an individualist, but I'm not a conservative. I'm for free markets, but I'm not a Laissez faire capitalist. I'm for moral horizons, therefore I oppose religion. I believe in national sovereignty, yet I'm a global citizen. I value the rights of labor, yet see the necessity of capital. I oppose federal Democracy, while advocating for a planetary Republic. I can't abide by the harshness within the GOP, nor the chaos and the clutter that is the DNC.
The most influential philosophers in my thinking would be Aristotle, St. Thomas Aquinas, Arthur Schopenhauer, Ken Wilber, Ayn Rand, and Friedrich Nietzsche.
My favorite quote:
Men fear thought as they fear nothing else on earth -- more than ruin -- more even than death.... Thought is subversive and revolutionary, destructive and terrible, thought is merciless to privilege, established institutions, and comfortable habit. Thought looks into the pit of hell and is not afraid. Thought is great and swift and free, the light of the world, and the chief glory of man.

-Bertrand Russell
In conclusion: To all those I may have wronged, I ask forgiveness. To those I may have helped, I wish I had done more. To all those I neglected to help, I ask for understanding. To all those who helped me, I sincerely thank you.
"I will never understand your tendency to criticize and negatively speak of other photographers..."
Me - It's called social commentary. I use real people to illustrate larger societal trends - like considering it wrong to criticize (which in itself, IS a criticism, thus making you a hypocrite).
If you had ever read my bio, you would know that I'm not a photographer, I'm a philosopher with a camera who's documenting the collapse of a once great Empire. Don't like what I have to say? Change the dial...
CONTACT