People often ask, "What's the best 35mm film camera for street photography?" While there isn't any one correct answer to this question, I can offer my experience with the various cameras that I have used over the years. In this short video I give a review of the following cameras:
Nikon FM - You can still purchase a new Nikon FM-10 35mm SLR Camera with 35-70mm f/3.5-4.8 Zoom Lens!
Nikon F-2 - The Nikon F2 is a professional level, interchangeable lens, 35 mm film, single-lens reflex (SLR) camera.
Nikon F-100 - The Nikon F100 is a 35mm film-based single-lens reflex camera body introduced in 1999. Nikon F100 35mm SLR Camera Body
. My best-pick for overall camera.
Minolta 202 - A classic fully manual film camera.
Minolta X-700
Minolta XD-11 - My best-pick for street photography.
Canon Canonet
Olympus 35 Rangefinder
Fed-II
Fundamentals of Street Photography Workshops With Chuck Jines, 2014
For anyone interested in street photography, historical/social documentary photography, or photojournalism – the art of capturing life as it happens, and telling stories with images.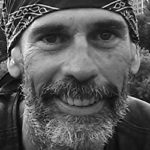 Chuck Jines is an internationally published independent documentary photographer and photojournalist.
Chuck's passions center around the controversial questions concerning the nature of reality, the human mind, society, and current events. He covers news events, social events, and loves to share his social documentary photography of people, places, and things.
Chuck is also an Amazon author and the publisher of the magazine, Gravis.
Chuck's work has been published by prominent news publications such as the BBC, The Daily Mail, The Guardian (2), New York Mag, and the fine-art magazine, Corridor Elephant.
Chuck's video work has been used by ABC News/Rock'n Robin Productions special on Hurricane Katrina. Chuck has also provided fixing services for CNN's "This Is Life" with Lisa Ling (Season 3 Episode 3, The Black and White of Heroin), and has been invited to display his work at the Chicago History Museum.
As well, Chuck has given presentations of his work at Chicago State University, and at DePaul University College of Communication. Chuck's work on heroin has also been exhibited at the Gallery 7 in Joliet Il..