I no longer offer street photography workshops. In the near future, I will be offering New Media Photojournalism workshops for people who are politically centre-right.
---
Click the links below for more information!
I offer photography workshops that are designed to fit photographers of all experience levels. Whether you're a beginner, a novice, or a seasoned professional photographer, I can custom design a photo adventure or photography workshop that is sure to please. I offer both per-scheduled workshops, as well as custom bookings to fit any schedule.
Street/Documentary Photography Workshop (6-8 hours) - Photographing People, Places, and Things
---
Feel free to contact me using the form below if you have any questions or to schedule your photography workshop/photowalk! Be sure to include the dates you would like to attend. See you soon!

CONTACT
We had a great time at the workshop. Thanks for showing us all that goes into street photography. We learned a lot that we'll use in our photography forever, especially to be brave! Thanks again, Chuck! -Steven Shay, 9/30/2014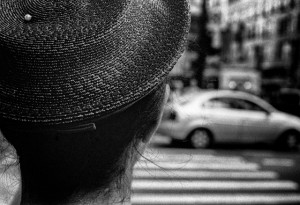 The craft of photography is a mixture of the technical along with the creative. My photography workshops embrace both digital as well as traditional film photography.
My photography classes will give you a full grounding in the basics of how to use your camera, a solid understanding of composition, and an understanding of lighting so that you'll have all the basics for creating powerful images. There is no 'one-size-fits-all' when it comes to photography. That's why I work with each person's individual ability in order to achieve the greatest amount of improvement in their photography. The overall aim of my photography workshops is to make you a more creative and better overall photographer.
---
Photography Workshop Reviews 10/8/2014
If you are looking for the same old tired photography instruction class don't read any further. If you are looking for enthusiasm, passion, and simple instruction that you will actually be able to use after a class then you have come to the right place. In the 18 months that I have taken classes, and gone out on photo shoots with Chuck, my photographic skills and confidence in the shots I've been able to take have soared to the moon. Literally! I took a shot of a full moon last night, that without the skills I have learned, would have been another failed attempt. Learning to shoot in manual mode on my camera, and set the proper f-stop and shutter speed, is probably the skill that many beginners and intermediate users fail at miserably. With one "learn the basics of my camera" class and subsequent practice these skills are now a natural part of my daily photo shoots. Thanks Chuck for taking the time to share your passion and photography knowledge with me! -Rich Kolar
Dear Chuck —
Thank you for introducing me to the world of street photography. You teach a wonderful combination of tools, technique and tradition, and your workshop took the fear that I had and replaced it with passion. Your workshop gave me the "tricks of the trade" that you've learned over the last 5 years, and your knowledge of the city and its inhabitants is unparalleled. In an era of digital manipulation and fast firing cameras, you stand out as "the real deal". Best regards, Jeff Carsten, Southern Light Photography
Yes!…
"…I have sent emails to all my photo pals recommending this workshop. In one day in the rain, I got more confident with my camera (shooting on "Manual" was amazing — I'd always been afraid of 'M') and more confident being "out there" as a photographer. You will feel like you have traveled far and deep, seeing the city for the first time with new eyes. Chuck is a generous and skilled teacher who has lots of tricks up his sleeve. You will have fun and learn a lot more than you expected." -Angela, June 15, 2013 Chicago Street Photography Workshop "
Thanks, Chuck
I was only in Chicago for a few days and I wanted to see the city. That's exactly what I got with Chuck Jines. I had contacted several photo tours/walks and received delayed responses, notices that they were out of town for the Thanksgiving week, etc. Chuck got back to me immediately and asked if I wanted a private. I was on board. Street photography has always been an interest of mine, but getting comfortable taking photos of strangers has been difficult. I got more out of watching Chuck work and interact with people on the street than I'd received from any photography workshop. He explains the process and gets you out of your comfort zone, which was a mandatory step for me. You don't just get the tips and tricks of street photography with Chuck, you get an all out photography lesson. He covers framing, balance, metering, content; all things I felt I was quite confident with, but he would go deeper into the psychology behind photography and what makes a good photo, innately. His knowledge of the subject in general is mind blowing. I could pick his brain for hours and will definitely contact him again when I'm in town, as his prices are VERY reasonable, and he could easily charge 3x as much. Chuck knows the city very well. He has intertwined himself with photography and philanthropy to create a wonderful way to give back to his art and the homeless in Chicago. Please go to his website and read some of his blogs on his projects and the people he follows. They're not your everyday photo projects. He literally brings light to some of the darkest parts of our society, and does his best to help those who are willing to be helped. He's quick and unapologetic when it comes to people who judge him. A gentleman approached us after he had taken a photo of a homeless man, who Chuck knew and had photographed before, and began to berate Chuck for taking advantage of the homeless. After an attempt to have a civil conversation with our nosy, new friend, and was denied by unintelligible banter, Chuck just rose his camera to his face and snapped a photo of the guy. He stomped off in an irate stupor. It was quite wonderful. There would be no way to appease that man, or any way to explain to him that Chuck does more for this community than probably anyone in the city. Most importantly he reinvigorated my interest in film. I bought a Minolta 202 on Ebay the second I got home. It has forced me to slow down and concentrate on everything that goes into a photo. I'm learning more about light and exposures. I won't put my DSLR away, not even close, but I focus now on what's out in front, not what's on the little screen on the back of my camera. I recommend Chuck's workshop to anyone who wants to move forward in their photography, not just in street, but as an artist. In this day and age it seems so many professionals are hesitant to share their thoughts and techniques. This is your advantage to take to the streets with one of the best. Take advantage of it. You won't be disappointed. -Bryan Lovell